Ten post dostępny jest także w języku: Polish
Today we present the first draft of a series of new figurines modeled 3D. It shows Boleslaw Orliński, the famous pilot of PZL. It will complement a series of models of aircraft PZL P.1-P.6-P.8 from Arma Hobby.
Boleslaw Orliński – remarkable pilot
Name famous in pre-war Polsce. As a beginner pilot flashed by doing 242 loops per one flight. Hero of the flight Warsaw-Tokyo-Warsaw in 1927. Flight completed successfully, despite being torn off the wing tip in his Breguet XIX A2.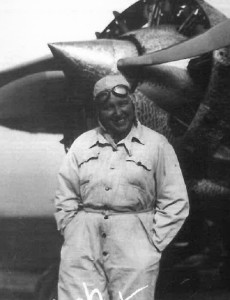 Boleslaw Orliński before PZL P.6, Cleveland 1931
Orliński had a huge impact on the development of PZL fighter construction Zygmunt Puławski. During the test flight of PZL P.1 gave up the opportunity to jump with a parachute to save the machine and prevent the closure of the project. During the competition the air in Cleveland in 1931 took on the PZL P.6, which has been hailed by experts and the air press the best fighter in the world. In 1934, flying the PZL P.24 he broke the speed record for an aircraft with a radial engine. He first flew  a total of 28 PZL aircraft .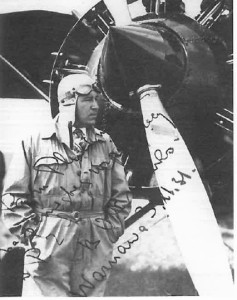 Pilot and prototype of PZL P.7
During the war was initially postponed for pilot training, but eventually lived to sorties in the 305 (Polish) bomber squadron RAF. He performed the most difficult night missions over Germany on board of the Mosquito.
Learn more about Boleslaw Orlińskim – biography page armahobbynews.pl
Figure of Boleslaw Orliński in scale 1/48
Orliński figure will be made ​​in 1/48 scale – in addition to the model from Arma Hobby. It was Sculpted our new colleague, Grzegorz Kawecki, a professional 3D artist working for advertising industry. Figure has been modeled on the basis of the images Orliński with PZL P.6 in Cleveland and foraging PZL P.7 you can see above. The pilot wears a distinctive flight fatigue there. As shown in the pictures are two types of fatigues hardly different type, but made ​​of different materials (or simply washed out to varying degrees.)
This simple figure will be easy to paint not only for figure modelers, but also for those usually building aircraft kits . Ideal for diorama with the first PZL aircraft in 1/48 scale.
Figure design  is ready for 3D printing and will be printed at the beginning of August. For sales will come as soon as it's ready.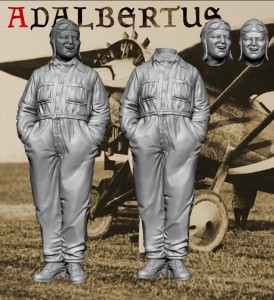 Division is part of the figure, body and separate head.