Ten post dostępny jest także w języku: Polish
Today we are celebrating the 100th anniversary of the departure of the Polish Legion Cadre Company. This is the first Polish  unit that fought in the Great War – the war for the Poland won. Today we present figure Legions Uhlan of the early 1915. It shows  Boleslaw Wieniawa Długoszowski, one of the most recognizable Legionnaires, who later became adjutant of Marchal of Poland Jozef Pilsudski. <! – More ->
Cadre Company Legions
In 1795-1918 Poland was divided by Russia, Prussia and Austria. Polish Legions of Great War started with Polish paramilitary formations in the Austrian division of Poland. At the outbreak of the Great War Polish society having a powerful influence at the Imperial Court and using a method fait accompli Polish transformed Polish paramilitary formations : Polish Rifle Teams and the Shooting Society "Strzelec" in offical Legions of Austro-Hungarian Army – it took place August 16, 1914.
Before that happened, August 3, a small unit of  "Strzelec" went to the Polish areas annexed by the Russians. Seven Lancers of Belina, which in typically commando raid sowed panic and broke the mobilization of the Polish men to Russian Tsar Army .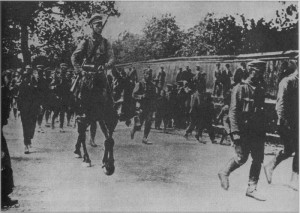 Cadre Company in Kielce
6th August Cadre Company came across border to Russian division of Poland. It consisted of over a hundred soldiers, under the command of the commander of Pilsudski. Unfortunately, hopes of sparking a rise in Russian division not come true, and after the occupation of town of Kielce company returned to Kraków became the cadre of the Legions. It was the first Polish unit fighting for independence in the First World War.
See the site www.figus.pl (Polish text)
Polish Military Eagle 1914-1918 – paramilitary organizations link
Polish Military Eagles from 1914 to 1918 – State Central click
Boleslaw Wieniawa Długoszowski – the first Uhlan of Poland
It is difficult in a single paragraph to include the whole legend of Wieniawa, first uhlan of Poland. Our hero marched with Cadre Company personnel with the fourth platoon. He wanted join to Belina Lancers, but he had no horse. It was the most important piece of cavalryman equipment and a precondition for the Lancers. The horse was on the way and Wieniawa disappeared from the infantry becoming a cavalryman.
During the first months of the war fought very effectively as a platoon leader of Lancers. Then he became adjutant Pilsudski and went with him through the Great War, the restoration of independence, the Polish-Bolshevik war and Coup the Grace in May 1926. Especially Wieniawa proved is valour dispatching orders by horse to surrounded defence posts of Legion during Brusilov offensive 1916.
Figure of the Uhlan Legion 1915
Figurine of Wieniawa as Legion lancer in 1915 was by sculpted Marcin Kazmierczak from the O-8 Eighth Detachment studio. It shows Wieniawa as a platoon commander Lancers at the beginning of that year. In addition to the characteristic Austrian cavalry uniform he wears a peaked hat cap early model, smaller, and less spreading compared to the better known, later model.
Figurine painted with Lifecolor paint , list of colors and markings can be found on the product page in our store , look there too for the PDF manual (link in the text.)
Bibliography
"Belina i jego ułani" by Piotr Hubiak , ISBN 83-7188-475-3, Krakow 2003
"Polski Mundur Wojskowy" by Zdzisław Zygulski jr and Henryk Wielecki, ISBN 83-03-01483-8, Warszawa 1988
"Szabla i Koń, Gawęda o Wieniawie" by Tadeusz Wittlin ISBN 83-88736-33-7, £omianki 2003
"The Austro-Hungarian Forces in World War I (1)" by Peter Jung and Darko Pavlocic, Osprey MAA392, ISBN 1-84-176 -594-5